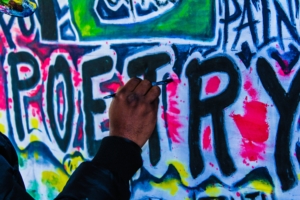 Poets Reading the News is not just a place to engage with poetry about current events. We are also a dynamic volunteer space for those interested in learning the ropes behind poetry, digital publishing and nonprofit development. Volunteers work closely with the founders to make the machine hum and develop skillsets in editing, research and publishing. This page shows our current openings.
Assistant Poetry Editors
Our assistant poetry editors are integral to reviewing and selecting from our large volume of poetry submissions. Collaborating directly with the EIC and managing editor, assistant editors evaluate submissions assigned to them, publish works, engage in thoughtful discourse around poetry and current events, and select pieces from the archives to highlight for our audience. Assistant editors can expect to hone their ability to read critically, evaluate complex poetry from a range of styles, advocate their positions, challenge their interests and perspectives, and read a lot – a lot – of poetry. This is a four-month volunteer position and requires between 2-4 hours of volunteer time per week. We lead three assistant editor cycles each year so please check back if the applications are presently closed.