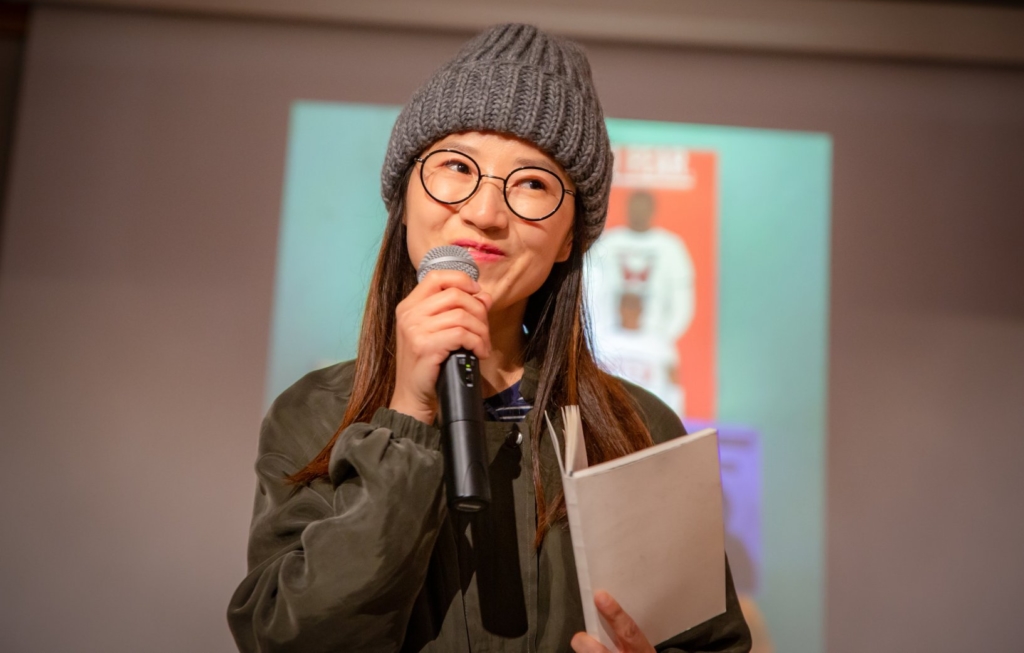 2021
Before we can imagine what will be, we must look at what is. Join Poets Reading the News and on-off.site for Catharsis: An Inauguration Poetry Reading. We will process the enormity of the end of Donald Trump's presidency and the inauguration of Joe Biden and Kamala Harris with poetry, guided exercises, and deep silence. Readings by henry 7. reneau, jr, Gary Margolis, Hyun-Joo Kim, and Susana Praver-Pérez will center us in this historic moment. Exercises by Stephanie Garcés and Stephanie Smith will provide intention, reflection, and action. Facilitation by J Spagnolo, Elle Aviv Newton, and Camilo Garzón will keep us present.
2020
During this annual conference, Poets Reading the News' J Spagnolo will host a session featuring guided meditations by poets whose words will center on the body, the stillness, the spirit, and the breath. Featuring poets Richard Garcia, Angelique Zobitz, Priyatam Mudivarti, Sandra Fees and Caroline Cottom.
Elle Aviv Newton, Editor in Chief of Poets Reading the News, will be hosting a panel talk with Yvonne Daley, Kim Harvey and Michel Krug titled "(Sur)realpolitik: On Political Poetry in the Post-Truth Era" at the 5th annual New Orleans Poetry Festival.
Please note: This panel talk has been delayed until 2021 due to Covid-19. Read more here.
2019
House Democrats have pledged to finish their impeachment deliberations by Christmas – sounds like cause for a Holiday Impeachment Party to us! This San Francisco extravaganza features an illuminated digital poetry installation, a bespoke cocktail menu crafted towards a new political reality, delicious seasonal hor d'oeuvres, and all the political schmoozing you've been longing for, plus an *~Extra! Extra!*~ Special Surprise Guest (wasn't even on the witness list) – and all this from the gorgeous, glittering panoramic perch of Royal Towers in North Beach with its sweeping views of Baghdad-by-the-Bay. 100% of proceeds benefit Poets Reading the News, the nonprofit focused on helping the world process the news through poetry.
Poets Reading the News invites you to a powerful poetry happening in the heart of San Francisco! Following a summer of passionate #CloseTheCamps protests, let's gather for an evening of deep listening, extraordinary poetry and community solidarity. If this is a border crisis, who created it? How do we support migrant identities and experiences? And where do we find hope? Join us to hear Bay Area-based poets Josiah Luis Alderete, Alan Pelaez Lopez and Kim Harvey – and bring something for the open mic to follow!
Join writer, curator, editor and PRTN cofounder Elle Aviv Newton as she speaks with Bay Area-based poet Zoe Young and fellow PRTN editor J Spagnolo about the role of poetry in today's news cycle. This panel happening will benefit media-makers, activists, educators, students, theorists and citizens seeking innovative activist pathways, anecdotes to nihilism, and creative approaches to the journalistic method.
In times of darkness, poetry is essential reading. Please join us for a poetry reading and discussion of the power of poetry to respond immediately to events shaping our future with Elle Aviv Newton, Caitlin Gildrien, and Yvonne Daley.
Join us for a reading by contributing writers to Poets Reading The News, The Rise Up Review and Writers Resist at this off-site reading at AWP Portland! We're proud to feature readings by Megan Merchant, Rémy Dambron, Matty Layne Glasgow, Devon Balwit, Collin Spinney, & Charissa Menefee.
2018
Inprint, Houston's premier literary arts organization, presents Poets Reading the News for an evening workshop. Join founders and editors Elle Aviv Newton and Jenna Spagnolo as they share strategies that welcome writers into the act of documenting and witnessing rapidly-shifting political and cultural landscapes through the art of poetry. Participants at this poetry lab will have the opportunity to share their writing and should be prepared to get creative and inspired. Grab your tickets here!
Poets Reading the News co-editor Elle Aviv Newton hosts The Poetics of Journalism in Verse, a panel discussion featuring poets J. Todd Hawkins, Abigail Carl-Klassen, and fellow editor Jenna Spagnolo. This dialogue will explore the new genre of poetics emerging in the post-truth era and its blend of personal response and journalistic technique. Both editors will also be featured in Sunday's talk Collabs, Collectives, and Communities with LIVE! Mag editor Jeffrey Cyphers Wright.
The creators behind Poets Reading the News and LIVE! Mag invite you to join a unique and casual open mic poetry reading before the New Orleans Poetry Festival. Underneath the boughs of a iconic tree in New Orleans, the Tree of Life, poets will gather to share stories and poems.
2017
Why has it taken so long for news of sexual harassment and political collusion to reach the shores of our headlines? How do we keep this conversation alive, beyond trending? What does opposition to complicity look like? And how do we identify complicity and create a culture without it? Join us as we explore these questions through community discourse, poetics, and engaged artistic practice.
Poets Reading the News performs at the Project Censored and Media Freedom Foundation's annual book release celebration at the Lagunitas Brewing Company. A portion of the evening's proceeds go to the SRJC Fire Relief Fund Sonoma State Fire Victims Fund.
Poets Reading the News celebrates its first year of publishing journalism in verse! You are invited to the literary party of the century, hosted at the gorgeous Royal Towers in San Francisco's North Beach, featuring stunning views of the city. Art installations, dance, and poetic performance will bring the night to life. The fun will go beyond this one night — all sales from tickets the bar and donations go toward publishing the first Poets Reading the News book! 
Poets Reading the News participates in this year's Beast Crawl, the largest literary festival in Oakland.  The audience hears poetic reflections on the news from writers Thea Matthews & Moira Roth, along with interactive work from Poets Reading the News editors J Spagnolo and Elle Aviv Newton. Find out more at the Facebook event page.
The Poetics of Propaganda @ Believe the Hype Exhibition
16 June 2017
B4BEL4B Gallery, Oakland, CA

B4BEL4B Gallery's Believe the Hype exhibition, curated by Poets Reading the News co-editor Elle Aviv Newton, culminates its program series in this expansive night of exploration, conversation, intellectual exchange and art performance. Featuring Poets Reading the News and hosted by J Spagnolo, the night features a critical data mining workshop and original dance performance by Sin Adjetivo. Poets and thinkers will unravel the night's themes of propaganda, the Internet and new activisms. Words courtesy of local legends Sarah Kobrinsky, AJ Dent, and Tova Ricardo.
That Feeling When When Trump Gets Inaugurated – Open Mic
19 January 2017
B4BEL4B Gallery, Oakland, CA
Join us for a night of sparkling literary madness against the machine! MCs J Spagnolo and Elle Aviv Newton, editors of Poets Reading the News, will host a cathartic evening of poetry and conversation to mark a day that once existed far beyond our wildest imaginations: the inauguration of Donald Trump as President of the United States. Commiserate! Activate! Become the politically empowered entity you wish to see in the world!
2016
Emergent Media Lab Series: Poets Reading The News
17 September 2016
B4BEL4B Gallery, Oakland, CA
Curators Elle Aviv Newton + J Spagnolo present a multi-dimensional event exploring the electric borders of poetics, activism, and technology. It is the launch of Poets Reading The News, an innovative digital media project that bridges journalism and poetry. The evening features the artist collective Saito Group, an anonymous group of writers, designers and hackers in support of the right to the city, data rights and economic solidarity. Saito Group's crowdsourced Twitter poems will be streamed in projected installations. The group will participate in an anonymized Q&A with the curators.