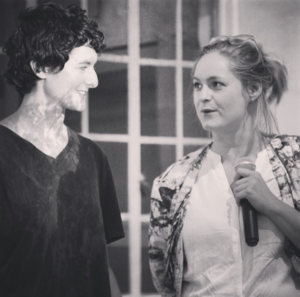 Poets Reading The News is an innovative digital project that bridges journalism and poetry. We keep pace with the news cycle but also transcend it, bringing attention to stories that get ignored, sharing personal and creative responses, and looking globally. Poetry titles are presented as headlines, content is organized into news sections, and poets-on-the-ground report breaking coverage. Here, journalism occurs in verse. 
Launched in September 2016 by poets Elle Aviv Newton and Jenna Spagnolo, it is headquartered in Oakland, California. We exist to enact poetry's vital cultural function as a processor for violence, complexity, political change and loss. In equal measure, we seek to revolutionize the classic journalistic model through the expressive method of poetics. We are a nonpartisan platform committed to featuring a diverse range of writers, both emergent and established, with a focus on experiment, insight, and contemporary subjects.
Please consider donating to keep this exciting project running! We rely on the generosity and support of our community to sustain and grow Poets Reading The News into the future.
Contact Information
Elle Aviv Newton + Jenna Spagnolo
Co-Editors & Founders
editors@poetsreadingthenews.com