1.
Our grandfather, the tailor,
his shears long as a saber,
left the shtetl by foot or rail
and sailed from pogrom to freedom.
No word passed down
in the thick of steerage—
the screech of gulls, the surge of waves.
The cloth of water could never be
stitched into cloaks.
Sundown at Rockaway,
the immigrant sea
was the sweat of the brow.
Our grandfather, the garment cutter,
washed off the week and donned his finery.
Hope, in a high silk hat, was the strike
for an eight-hour-day.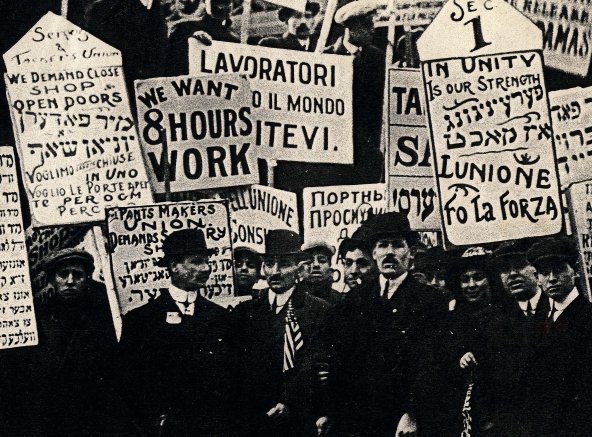 2.
It's a banner year for monarchs, precious migrants.
The milkweed thrived. We watch them nectaring in zinnias
before they fly against all hazards, eyes on the horizon,
above this aching continent. We bless their passage.
It's a banner year for despots and anguished immigrants.
Detentions thrive. We watch Love languishing in shackles
before some sham group trial where justice means expulsion
from our shaken nation. We grieve the wreckage
and rise this year remembering unwelcome immigrants,
our kin, striving for luck on stolen lands of milk and honey.
Now praise the bees, and apples harvested by foreign hands.
Free our hearts to make amends and act.
________
Verandah Porche published Sudden Eden (Verdant Books), The Body's Symmetry (Harper and Row) and Glancing Off (See Through Books). She writes and performs songs. Marlboro College gave her an honorary Doctor of Humane Letters. Verandah was featured in "Freedom and Unity: The Vermont Movie."
Editorial art by Elle Aviv Newton.