November 5th, 2009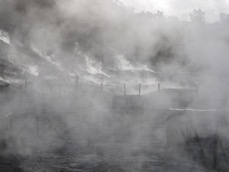 In the café
I read
Over and over again
A statement quoted in his obituary:
"It is not often someone witnesses a century of life,
especially with a conscience more or less alert.
This is a privilege
Which nature has bestowed on me."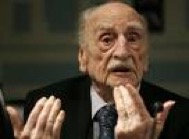 Francisco Ayala was born in Granada in 1906
And went into exile when Franco's forces
Took over Spain in 1939.
He taught in the US for years
And
It was only in 1979
That he returned to Spain.
Throughout his life he wrote.
Wrote constantly
–wrote novels, short stories and poetry
wrote about law and sociology–
I sit here
Thinking about what convoluted history
Francisco Ayala witnessed in his life.
Where will he go now?
Then I remember
A recent email with photographs,
From my friend, Margaret Honda,
Visiting Naples
Who was about to set off to see
The submerged site—volcanic craters, steaming mud and water—
Of
Campi Flegrei,
The ancient entrance to the underworld of Hades.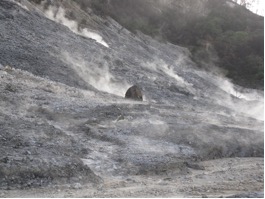 Will Francisco Ayala seek out Hades?
---
Moira Roth is an art historian, writer and playwright with a Ph.D. from the University of California, Berkeley. Since 1985 she has taught at Mills College. She has published extensively including Difference/Indifference: Musings on Postmodernism, Marcel Duchamp and John Cage. Currently she is at work on her second volume, Traveling Companions/ Fractured Worlds. This poem is #3 from her ongoing News from the Café series.